Startup F&B On-demand Dailybox Kantongi Pendanaan Seri A Dipimpin Vertex Ventures
Saat ini layanan Dailybox telah hadir di beberapa kota di Pulau Jawa, Sumatera Utara, dan Bali
Marsya Nabila - 22 July 2021
Dailybox, startup F&B on-demand, mengumumkan perolehan investasi seri A yang dipimpin Vertex Ventures SEA. Putaran ini turut didukung Kinesys Group. Kendati tidak disebutkan di dalam rilis resmi, sumber DailySocial mengatakan dana yang diperoleh mendekati $3 juta (hampir 43 miliar Rupiah).
Co-Founder dan CEO Dailybox Kelvin Subowo menyampaikan, pihaknya menyambut pendanaan ini dengan sangat antusias. Perusahaan berencana untuk fokus mempercepat ekspansi bisnis ke seluruh Indonesia dan mengembangkan sistem dapur terpusat (central kitchen) agar dapat terus meningkatkan kualitas layanan kepada konsumen.
"Saat ini Dailybox telah hadir di beberapa kota di Pulau Jawa, Sumatera Utara, dan Bali. Pada Agustus mendatang, kami berencana untuk membuka gerai pertama kami di Pontianak. [..] Kami berharap Dailybox dapat menjadi brand F&B lokal terbesar yang dapat memperkenalkan makanan nusantara tidak hanya di Indonesia, tapi juga Asia Tenggara bahkan seluruh dunia," terangnya, Kamis (22/07).
Senior Executive Director of Vertex Ventures SEA Gary Khoeng menambahkan, "Ketika berinvestasi, kami selalu mencari startup yang berpotensi menjadi calon juara regional. Di tengah berbagai ketidakpastian saat ini, kami melihat Dailybox secara konsisten menunjukkan performa yang baik di industri ini."
Pertumbuhan bisnis dan dampak pandemi
Kelvin menambahkan, pandemi yang sudah terjadi sejak tahun lalu memang telah membawa dampak yang luar biasa di banyak aspek, tak terkecuali industri F&B. Namun, kondisi tersebut tidak menghalangi pertumbuhan bisnis Dailybox. Pada Maret kemarin, gross revenue (pendapatan kotor) perusahaan secara grup tumbuh hingga 700% secara YOY.
Omzet penjualan Dailybox naik 80% berasal dari layanan pesan antar makanan online. Angka ini sejalan dengan fokus utama perusahaan yang fokus pada layanan pesan antar makanan.
Selain itu, kurang dari satu tahun, peningkatan gerai juga tumbuh drastis hingga 300% menjadi ratusan gerai pada semester I 2021. Pencapaian menobatkan Dailybox sebagai F&B brand yang memiliki jaringan cloud kitchen terbanyak di Indonesia. "Kami akan menggandakan jumlah gerai pada akhir tahun ini."
Startup yang didirikan pada 2018 ini adalah bagian dari The Daily Group (PT Sendok Garpu Internasioal). Dalam grup ini menaungi beberapa brand F&B lainnya seperti menu sushi-to-go, Shirato, dan minuman segar, Anytime. Dailybox menghadirkan berbagai menu masakan rumahan yang terjangkau dan cocok dengan lidah masyarakat Indonesia.
Perusahaan berkolaborasi dengan chef ternama, seperti Juna Rorimpandey dan Renatta Moeloek, menghadirkan 30 pilihan menu beragam. Dalam menjalankan operasionalnya, Dailybox menerapkan sistem dapur terpusat untuk menjaga kualitas makanannya dan berkolaborasi dengan operator cloud kitchen seperti GrabKitchen, YummyKitchen, dan mitra individu Dailybox, DailyPartner.
Didorong platform food delivery
Hadirnya food startup didorong pertumbuhan pesat bisnis food delivery yang menjadi infrastruktur distribusi mereka -- termasuk juga di sisi pembayaran karena layanan food delivery yang menguasai pasar berbentuk super app.
Menurut data yang dihimpun Momentum Works, per tahun 2020 pertumbuhan bisnis pesan-antar makanan di Asia Tenggara mencapai 183%. Peningkatan ini didukung layanan pengantaran instan ala Grab, Gojek, Foodpanda, Deliveroo, dll. Bisnis ini telah membukukan GMV mencapai $11,9 miliar dengan tren yang terus bertumbuh.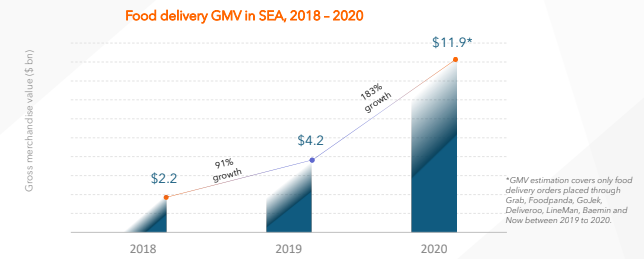 Spesifik untuk pasar Indonesia, pada tahun 2020 GMV yang dibukukan layanan pesan antar mencapai $3,7 miliar dengan dominasi layanan GrabFood (53%) dan GoFood (47%).